Creative Office Space
The Brutalist style building that was once the headquarters of Sunkist™ is now available for one of today's most innovative businesses to plant its roots in the heart of Sherman Oaks. The iconic building, originally designed by A. C. Martin and Associates, will be fully restored and reimagined as a creative workplace surrounded by an interactive campus including retail stores, residential buildings and green parkways. Citrus Commons offers 146,510 square feet of office space for lease.
Over 146,510 SF
---
Available Office Space
Amenities
LEED Gold Pursuant by U.S. Green Building
Preservation of Iconic Sunkist™ Office Building
Building Signage Available with Prime Visibility from the 101-Freeway with Over 299,000 Vehicles Per Day
Build-to-Suit Creative Office Headquarters
All New Mechanical & Plumbing Systems
Reimagined Atrium Courtyard with Central Fountain & Landscaping
Customizable Outdoor Work Environment
Finished Floor Slab to Finished Ceiling Slab

Basement: 15'2"
First Floor: 19'-3"
Second Floor: 14'
Third Floor: 13'-5"

Square-Foot Floor Plates

Basement: 13,835 SF
First Floor: 48,604 SF
Second Floor: 39,415 SF
Third Floor: 44,656 SF

Bike Storage
Live, Work Play Environment with On-Site Apartments & Retail
High Efficiency Air Filtration
Unique Underground Executive Parking
Dedicated & Controlled Employee Parking
Customizable Basement for Building Amenities Could Include: Fitness or Conference Center
Electric Vehicle Charging Stations
Pet Friendly
Connection to 3.75 acres of Open Space Featuring Pedestrian Paseos & Parkways
24-Hour Security
On-Site Retail & Dining
Nationally Recognized Specialty Grocer Anchor Tenant
Adjacent to Shopping & Dining at Regional Shopping Mall
Minutes from Restaurants & Retail on Ventura Blvd.
Central Location with Readily Accessible Transit
Walkable Location with Walkability Score of 71
Easy Access to US 101 & I-405 Freeways & Los Angeles
Site Plan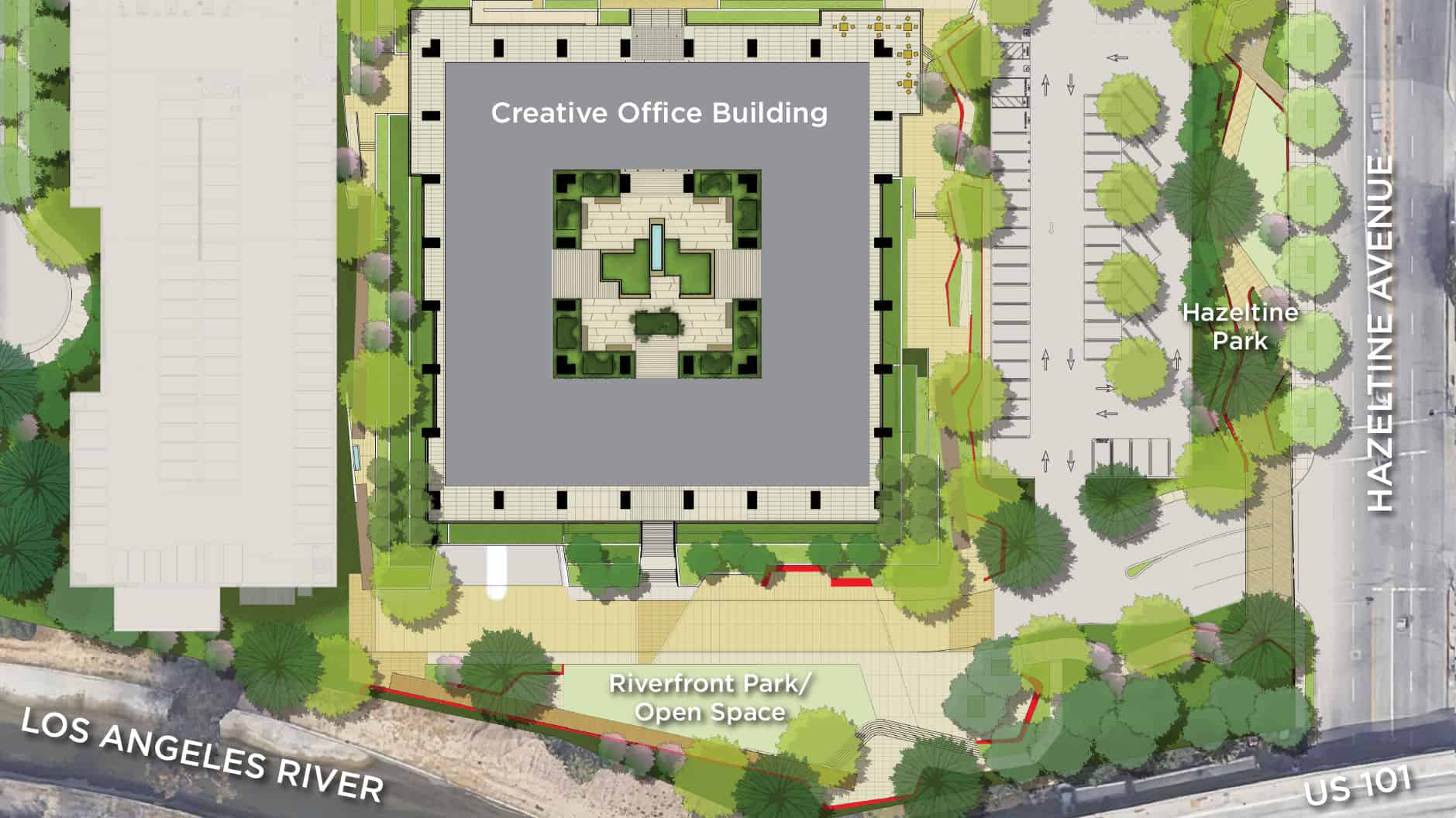 There is a site plan displayed on this page showing the location of buildings for office space, as well as, parking, parks and open space located at 14130 Riverside Drive, Sherman Oaks, CA 91423.
For a detailed description of the layout, please phone 844-712-1070 for assistance.